XPressEncoder – Turnkey RFID Encoding Suite for Automated Production Lines
Fast, Efficient Inline Tag Encoding
XPressEncoder is a fully customizable RFID encoding solution compatible with any existing PLC (Programmable Logic Controller) driven automation line that quickly writes data to RFID tags directly within the production line.
As global markets and competition intensifies, brand owners are realizing competition also includes counterfeit products and gray market diversion. Products sold by unscrupulous wholesalers in price protected markets at unauthorized discounts may not be properly labeled for that region. Counterfeit products deceive consumers and erode brand equity. These threats are real and businesses need to protect themselves.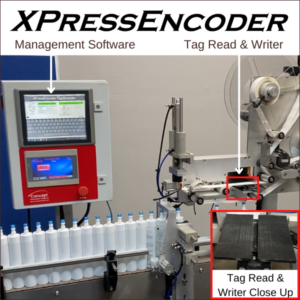 Radio Frequency Identification (RFID) technology is used to solve these problems and much more. Smart products needing onboard calibration data or high value and high risk products require better manufacturing, traceability, and anti-counterfeit measures to maintain product and supply chain integrity. XPressEncoder is a fully customizable RFID encoding solution compatible with any existing high-volume PLC driven automation line to quickly write encrypted product authentication information and other data to RFID tags. This sophisticated system has three built-in PLC triggering methods to select from and ensures 100% accuracy. Tag writing can include RSA encryption so only authorized personnel can validate tag data. This system can validate tags with select mobile readers, including smart phones, giving brand owners powerful product authentication and other tag data in the field
Customizable Encoding – Write product calibration information, manufacturing date codes, or any other information into the RFID chip.
100% Read-Back Accuracy – Each tag is verified for write accuracy before signaling the PLC to proceed or to invoke proper handling of defective / rejected tags.
Available RSA Encryption – Secure encryption using public and private keys excellent for verifying digital signatures and enabling product authentication.
Easy Operator Management – Easy to use touch screen interface while the system fully controls all PLC trigger signaling and tag write transaction logs.
Non-PLC Manual Encoding – Available as a standalone encoding station ideal for hand-operated, low volume production or re-encoding of tags in post production.
Handheld RFID Tag Readers – NFC Android device apps to read and authenticate HF tags in the field and other compatible devices to read UHF and LF tags.
Additional information
| | |
| --- | --- |
| Product Manufacturer | |
| Software | |
| Dimensions (L x W x D) | Customized to Requirements |
| Air Protocol Standard | |
| Operating Frequency | |
| Weight | |
| Power | 5V USB |
| Other Features | Fully customizable encoding software |
| Operating Temperature Range | |
| Reader Type | |
| What's Included | Fully customizable bolt-on solution includes panel PC, encoder head, GPIO interface |