XPressFinder – RFID Tag Locating Solution
Quickly Find Any Missing Item
XPressFinder is an RFID-based locating solution that combines a mobile RFID Tag reader with an Android app to quickly locate any missing item from a notebook to high value tools using passive UHF tags in both indoor and outdoor workspaces.
ANDROID DEVICE SOLD SEPARATELY
Workplaces come in all different shapes and sizes and are filled with countless physical assets. Assets include machinery, tools, equipment, customer parts, RMA's, or any other material resources. Even with a growing digital transformation, the amount of physical items in the workplace continues to increase more and more every year. Imagine the difficulty of finding one of the thousands and even hundreds of thousands of assets found in petrochemical, mining, military, office, airport, government, manufacturing, construction, and school facilities. Companies waste many man hours searching for missing our out of place items. What's worse is not being able to find them when they are needed most.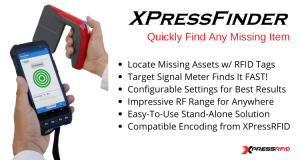 XPressFinder is a stand-alone asset locating solution that works right out of the box with compatible Android 7 and newer devices. It combines a mobile RF Prisma RFID Scanner and the Telaeris XPressFinder Android app helping to quickly locate missing industrial assets with passive UHF tags in vast indoor and outdoor workspaces. XPressFinder's visual signal meter makes it easy to locate a missing asset within minutes, saving companies time and money. Simply add the ID number to the XPressFinder app and start sweeping the work area for a return signal from the missing item. Once a signal is detected, the app with its audio and visual guidance directs users closer and closer to the target location where the missing item can be found.
Locate Missing Assets - Enter an item's tag ID number or select from a list of IDs found in range within the XPressFinder app to quickly find it.
Target Signal Meter - In-app audio and visual guides direct users to the missing item until hitting the bullseye when the item is within 3-6 feet.
Configurable Settings - Adjust radio signal strength configurations to efficiently locate UHF tagged assets in most workplace environments.
Impressive RF Range - Sweep through 20,000 square foot facilities or yards in under 10 minutes to find a missing item, large or small.
Stand-Alone Solution - Start finding missing UHF tagged assets right out of the box with a compatible Android device (not included).
Compatible Encoding - Compatible with XPressEncoder UHF label printing and encoding system for workflow friendly and logical numbering / IDs.
What's Included:
XPressFinder APK install file for Android 7.0 or higher
ATID RF Prisma Bluetooth UHF  highly directional handheld scanner
Quick Start Guide
1 Year Technical Support
ANDROID DEVICE SOLD SEPARATELY
Additional information
| | |
| --- | --- |
| Product Manufacturer | |
| Software | |
| Android Device Requirement | Android 7.0 & newer with Bluetooth 4.1 (Device not included) |
| Handheld Reader | ATID RF Prisma sold by XPressRFID |
| Dimensions (L x W x D) | 171 x 117 x 40mm |
| Air Protocol Standard | |
| Max Read Distance | |
| RF Power | Settable up to Max 30dBm (1W) |
| Other Features | Adjustable power, buzzer, LEDs, phone holder |
| Bluetooth | BT V4.1 + EDR / SPP and iAP2 (MFi) |
| Operating Temperature Range | |
| Technology | |
| Standards | |
| Reader Type | |
| What's Included | UHF Handheld Reader with battery, USB charger, Android device mounting bracket, Android APK file download |